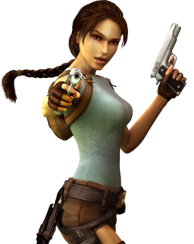 The licensing deal for Microgaming's Lara Croft: Tomb Raider™ online slot was signed with Eidos way back in 2004, making the Tomb Raider slot the longest-established branded slot in history. This popular game was the web's first licensed video slot, Lara Croft: Tomb Raider™.
2004
When it hit screens in 2004, it was an instantaneous smash hit and has continued to be enjoyed by a new generation of players. This game is now well into its second decade and is still going strong- it's a piece of online slot history!
2006
Microgaming subsequently developed a mobile and tablet version in 2006 attracting a whole new base of fans to the game.
2007
Forecasting a big jump in mobile gaming (in hind-sight, a good call), the casino games developer built the game in J2ME, Web App, Android and HTML5. A multi-player version followed in 2007 so that the popular game could be used in slots tournaments.
2008
Where the Lara Croft: Tomb Raider™ slot began, Lara Croft: Secret of the Sword™ followed- a sequel to the original followed in 2008 with a whole new mission to hunt down fragments of a lost sword.
Microgaming
Microgaming built the world's first online casino in 1994. Their HQ is in the Isle of Man, and they are the world's leading supplier of online gaming software with products such as Casino, Multi-player, Mobile, Poker, Bingo, Land-based, Sportsbook, Live Dealer, Business Solutions and Quickfire. Over the years they have built up a portfolio of more than 850 casino games, and more than 1,200 variants. New games are released every month.
Mini & Nano Tomb Raider
As part of their Quickfire product, Microgaming have added Mini and Nano Tomb Raider games to their portfolio.
Mini and Nano Games are often embedded as smaller games within, for example, a bingo site. The Mini games are 330x250 pixels and the Nano games are 200x200 pixels in size. They have been customised for their mini size so you still get a great experience when you play them.
Multiplayer Tomb Raider
The other big innovation from Microgaming was the Multi-Player Tomb Raider slot game. The adventurous micro-short wearing archaeologist often heads up multiplayer tournaments where players compete against each other for a share of a tournament prize.
Once players enter, they are allocated an allotted time or will be notified when enough players have signed up to the tourney - this will vary depending on whether you are entering a scheduled tournament or a "sit n go". Players compete against each other. The winnings you notch up in the game become your score on the leader-board. The more contestants there are, the bigger the prize pool. Players that prefer smaller tournaments with fewer players can opt for a sit 'n go tourney which restricts the numbers to a smaller quota. A new way to play the Tomb Raider slot!