Who is Lara Croft of Tomb Raider fame?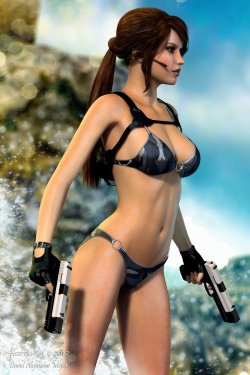 Well, she's a fictional character and the star of the video game series and the Tomb Raider Slot Machine. She is a stunning, clever, and fit British female Indiana Jones who explores ancient tombs and ruins around the globe.
Lara Croft first appeared in a 1996 video game called......Tomb Raider. Since then, there has been the Tomb Raider Slot, of course (2 versions), more video games, movies (starring Angelina Jolie), and merchandise. In short, Lara Croft is now big business!
Lara holds 2 Guinness World Records, has a loyal fan base , and is one of the first video game characters to be translated successfully onto the silver screen.
Lara Croft is an athletic young woman with brown eyes and hair. She often sports a sleeveless tank top, light brown shorts, calf-high boots, and long socks. Accessories include fingerless gloves, a backpack, a utility belt with holsters on either side, and two pistols.
Born in Wimbledon, West London, Lara is the daughter of Lord Richard Croft (fictional). She was raised as a toff and married to the Earl of Farringdon. Lara Croft schooled at Gordonstoun and a Swiss finishing school. A plane crash left her marooned in the Himalayas for 2 weeks; which drove her to leave her old life and search for a new life packed full of adventure in escapades around the world.
Many women have portrayed Lara Croft earning the character a Guinness World Record for the "most official real life stand-ins". They include Nathalie Cook, Rhona Mitra, Vanessa Demouy, Nell McAndrew, Lara Weller, Lucy Clarkson and of course Anglina Jolie.
Angelina Jolie considered Lara Croft a "big responsibility", something that she certainly delvered on, according to most fans. To the point, that she has pretty much made the character her own.